UPDATE: 10:00am 11/8/2016
The final polls are out, and there was some movement yesterday. An outlier poll gave Clinton an 11 point lead in New Hampshire yesterday, pushing the state's RCP average back into advantage for the former Secretary of State. It's hard to have a lot of faith in the poll after so many others have called the race very tight for the last week.
Meanwhile in Pennsylvania, Trump gained on Clinton, who leads now by only 1.9 points, well within the margin of error. RCP reported no new polling for VA, CO or Maine's 2nd district. That rounds out our five Battleground areas we've been watching.
Meanwhile, a tight race in Florida that has been flipping back and forth will end with Trump holding a mini-lead of 0.2 points. No surprises here from the Sunshine State that has caused so much confusion in elections past.
Nationally, three tracking polls were released today. Two from IBD/TIPP, a 4-way gauge which had Trump ahead by 2 points, and a head to head poll which showed Clinton beating Trump by 1 point. The other tracking poll released today was the LA Times/USC tracking poll which had Trump ahead 3 points.
If results aren't clear tonight, I'll continue updating here tomorrow with any new information available on who may ultimately win.
UPDATE: 9:30am 11/7/2016
In the last set of polls for the Battle Ground states we've been covering for you, there wasn't much of a change from yesterday. In PA, CO, NH, and Maine's 2nd district, no new polls were released since yesterday morning. A new average of polls in Virginia showed Hillary Clinton's lead there shrinking by 0.2 point to 5.0% going into Election Day.
Nationwide, polls moved only slightly, widening Clinton's lead by 0.1 point to 2.2% overall. That's well within the margin of error of the last eight national polls taken. The historically accurate IBD/TIPP poll produced a contrary result to other national polls, showing a widening lead for Donald Trump of 2%.
Many of the Battle Ground states are polling within the margin of error. There could be a number of surprises Election Night, and Americans might not have a firm idea of who their next president will be on Wednesday morning. Stay tuned.
UPDATE: 7:00am 11/6/2016
Only two days until Election Day and national polls have narrowed slightly to only a 2.1 point lead for Clinton. Polls in both Pennsylvania (Clinton +2.4%) and Colorado (Clinton +2.9%) narrowed in Trump's favor yesterday as well. No new polling has been released for Virginia, Maine's 2nd District or New Hampshire since our last update.
Trump continues to hold the momentum going into the last two days of the race. TheHill.com is reporting that renewed enthusiasm for Trump among Republicans who now see a win as possible is worrying Democrats.
Trump for his part has said polls are underestimating his potential performance by over-representing Democratic voters, especially minorities. TheHill.com writes:
His concerns have been echoed by some Republicans who say that surveys may be overestimating turnout among minority voters, potentially leading Clinton to underperform on Election Day. They also argue that working class white voters who have never before voted might turn out for Trump, potentially boosting him to a surprise victory.
There is some evidence to support Trump's view of minority voting. A new Harper Poll, shows African American voters in Pennsylvania tripling their support for Trump compared to Mitt Romney's in 2012. If that trend holds, it could be disastrous for Hillary Clinton. The Cook Political Report's Amy Walter and David Wasserman explained how important the minority vote and enthusiasm will be to the 2016 election way back in July 2015.
Rather, the key to 2016 may be whether Hillary Clinton and Democrats can motivate African-Americans to turn out in just as big numbers without Barack Obama on the ballot. According to exit polls, African-Americans were just 10 percent of the electorate in 2000 and 11 percent in 2004, but rose to 13 percent in 2008 and stayed there in 2012. In fact, in 2012, African-American turn-out exceeded white turn-out by two points (66 percent to 64 percent). And, while black turn-out has been on the rise since 1996, it is only in the last two elections -2008 and 2012 – where African American turn-out was even with white turn-out. Between 1996 and 2004, white turn-out exceeded African-American turnout by an average of seven points. From 2008-2012, black and white turn-out was essentially the same.
If Hillary Clinton can't replicate the black voter turnout of Barack Obama, it could be difficult for her to win. If the Harper poll is right, not only will Clinton have trouble replicating Obama's black turnout, but might also have trouble replicating the percentage of support among the African Americans who do make it to the polls.
The uncertain behavior of the polls has even led to a major online dispute between Nate Silver, who currently has Trump's chances of winning the election at 34.2% and Ryan Grim of the liberal Huffington Post who gives Trump only a 2% chance of winning. Their argument over methodology, covered here, shows just how nasty this election has become.
Needless to say, with polls getting tighter every day going into Election Day, the outcome is as uncertain as it has ever been.
UPDATE: 8:00am 11/5/2016
Donald Trump consolidated his lead in New Hampshire based on polls out Friday. He also picked up support in Pennsylvania, but fell back to 3 points behind Hillary Clinton in Colorado. No new polls were released for Virginia or Maine's 2nd District.
The national campaign is in flux at the moment. One of the most accurate polls over the last few elections has been the IBD/TIPP poll (the debate over this poll is addressed well here). Today's IBD/TIPP poll has the race tied.
The biggest news coming out of yesterday's polling was a Detroit Free Press poll that called Michigan a tie. That poll isn't included in the Real Clear Politics polling average, but the RCP average also tightened enough to put Michigan in the Toss Up column. Other additions to the Toss Up column were New Mexico and Georgia. Neither has been in play in a presidential election for some time.
Given the rapid pace of movement among polls, and with many voters still undecided or disenchanted by their choices, anything could happen.
UPDATE: 10:00am 11/4/2016
There was some pullback for Donald Trump in national polls reported by Real Clear Politics this morning. In the 4-way race, Clinton's lead expanded to 2.6 points. The state picture was mixed, with Donald Trump taking new leads in New Hampshire and Maine's second District, but Clinton regaining the lead in Florida.
In the shortlist of the five battlegrounds we've been following, Trump gained in NH, Maine's 2nd, and Pennsylvania where polls narrowed by 1.9% overnight to a lead for Clinton of only 3 points. Meanwhile, Clinton's leads in Virginia and Colorado were bolstered by new polling. Colorado remains a tight race at 2.6 points ahead for Clinton, and in Virginia the former Secretary of State is now leading by 5.2 points.
The most contentious race going is that in Florida, with newfound momentum for Clinton overwhelming what is also strong momentum for Trump. It's possible the tailwind Trump received from the FBI's renewal of its investigation into Clinton has subsided. In any case, Trump sits in a much better position to work from today than he did a week ago.
UPDATE: 10.00am 11/3/2016
Since yesterday's post, new polls have been released in Colorado, New Hampshire and Pennsylvania. You can see in the table below that Hillary Clinton's lead narrowed in all three of those battleground states. Three of the last five polls taken in Pennsylvania fell within the margin of error. In New Hampshire, Trump took his first lead in polls since at least July when the two candidates were tied. In Colorado Trump tied Clinton in a University of Denver poll completed on October 31, bringing him to within 1.7% against Clinton. No new polls were released in Maine's second district or Virginia.
Many of the polls in our list of battleground states still contain data from before Friday's bombshell announcement that the FBI had reopened the Clinton investigation. Polls coming out with data compiled only after the revelations have looked much better for Trump.
3:00pm 11/2/2016
Hillary Clinton will campaign in Michigan on Friday, four days before the election. That's when most candidates should be trawling the normal battleground states looking to expand their map, not retreating to what was once considered safe ground to throw up sandbags against a coming flood.
Since the FBI dropped the news it had reopened the investigation into Hillary Clinton's email practices, Donald Trump's poll numbers have surged. But even before that Hillary's had peaked. On October 18 Hillary led the race, polling at 46.2% with a 7.1 point spread over Trump (in the Real Clear Politics 4-way poll average). Her support has weakened somewhat to 45.3%, but Trump's has surged, as he has picked up independents and former third party supporters. He has now pulled within 1.9 points of Clinton. Only polls taken before the FBI news broke show Clinton leading by more than the margin of error.
Trump is now polling ahead of Clinton in many battleground states where only recently he was behind, including North Carolina, Nevada, Florida, and Arizona. The question is, will his newfound momentum be enough to sweep Trump into the lead in enough states to win?
Presuming these new Trump-led states vote for the billionaire on Election Day, and the other safer Republican states also vote for him, he'll still need to pick up another five electoral college votes to win. That likely means winning one, or some combination of the following Electoral Votes.

We'll be watching the polls and keeping you updated every day right up to the election here on Richardcyoung.com.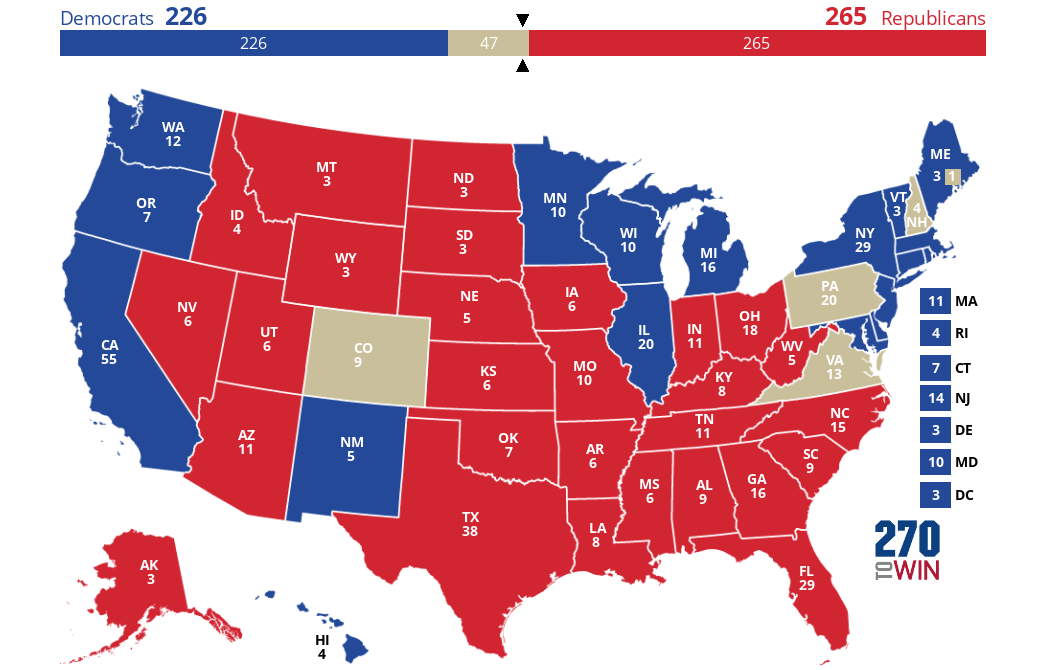 Click the map to create your own at
270toWin.com